Skip to end of metadata
Go to start of metadata
Table content
Understanding Statistics
One of the greatest aspects of PrestaShop is its unrivaled power in digging up information on customer behavior. Let's see how this is done.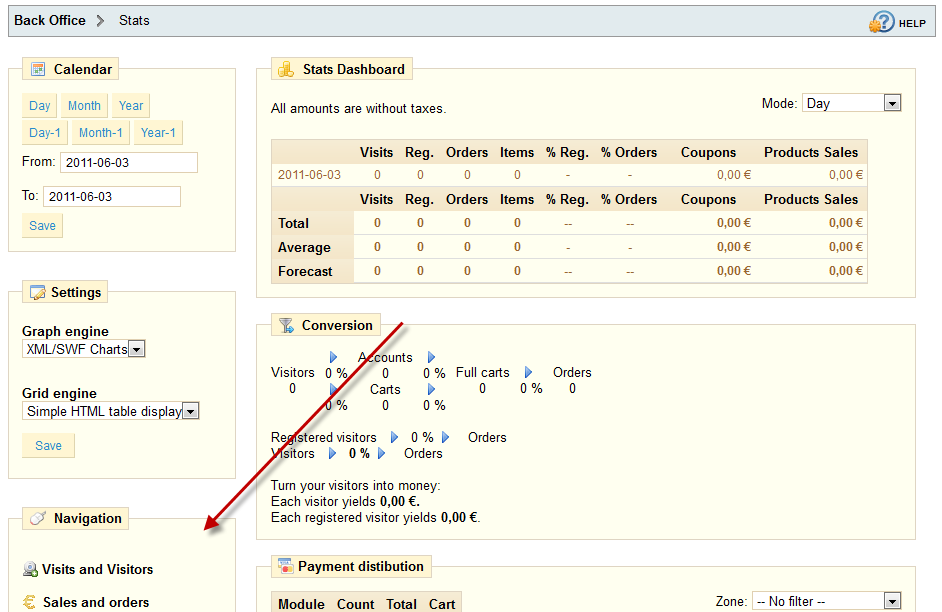 Throughout this section, the manual will succinctly explain the utility of different statistics. By clicking on each of the categories at your disposable in the sidebar of the "Stats" tab, a complete explanation is given, enabling you to understand the data given to you, and pull out the information you want in order to improve your store and your turnover.

Visits and Visitors. This page gives you statistics on
visitors to their site and the number of times they visit.
The greater the number, the more popular your site is.
The graph helps you understand the behavior of your
visitors. Basically you will see how many visits your site
has, and you can compare it to the number of visitors
(PrestaShop can recognize when the same visitor visits
your site multiple times, hence why the number of
visits will be much higher than the number of visitors).
The greater the difference between the two numbers,
the more you are succeeding in creating a faithful base
of clientele.