...
Configuración de la Página de Inicio
Here is one of the feature we're really proud of: the homepage's cartography! As each part of the front office belongs to a dedicated module, every little modification brings back to the "Modules" page to find the right module and finally access its configuration page... not that intuitive, right? Now the cartography allows a double view for a quicker theme customization, and happier merchants!

Image Removed

On the left side, an illustration of the homepage enables you to find the part you want to modify. It creates a simplified version of the PrestaShop front office with this interactive wireframe. On the right side, a mirrored view shows the module selection you need to configure for the modification.
Our homepage is divided into 7 different categories: menu, slider, home products, text block, banner, social & newsletter, and footer. Each category is a tab collapsible to display related features from both core pages and native modules. Features can be either installed, configured or disabled. Be aware that clicking on the "Configure" button makes the merchant redirected to the feature configuration page.
Personalización Avanzada



This part is dedicated to technical merchants and developers who want to customize their theme using the Parent/Child theme feature, which has been introduced in 1.7.
By clicking on "Download theme", you will be able to get a zip of the current theme. Next step regards its edition, just bring specific adjustments within the desired files to customize it. Finally, upload it. Yep, it is already done!

Image RemovedEsta es una de las últimas funcionalidades incorporadas de la que estamos más orgullosos de presentar: ¡la cartografía de la página de inicio! Como cada parte del back-office está controlada por un módulo dedicado, cada pequeña modificación que necesites realizar en la página de inicio te hace recurrir una y otra vez a la página "Módulos" para encontrar el módulo específico y acceder a su página de configuración... no es demasiado intuitivo, ¿verdad? De ahora en adelante, gracias a la doble vista cartográfica disponible de los principales módulos del tema, ¡la personalización del tema es más rápida y los comerciantes son más felices!.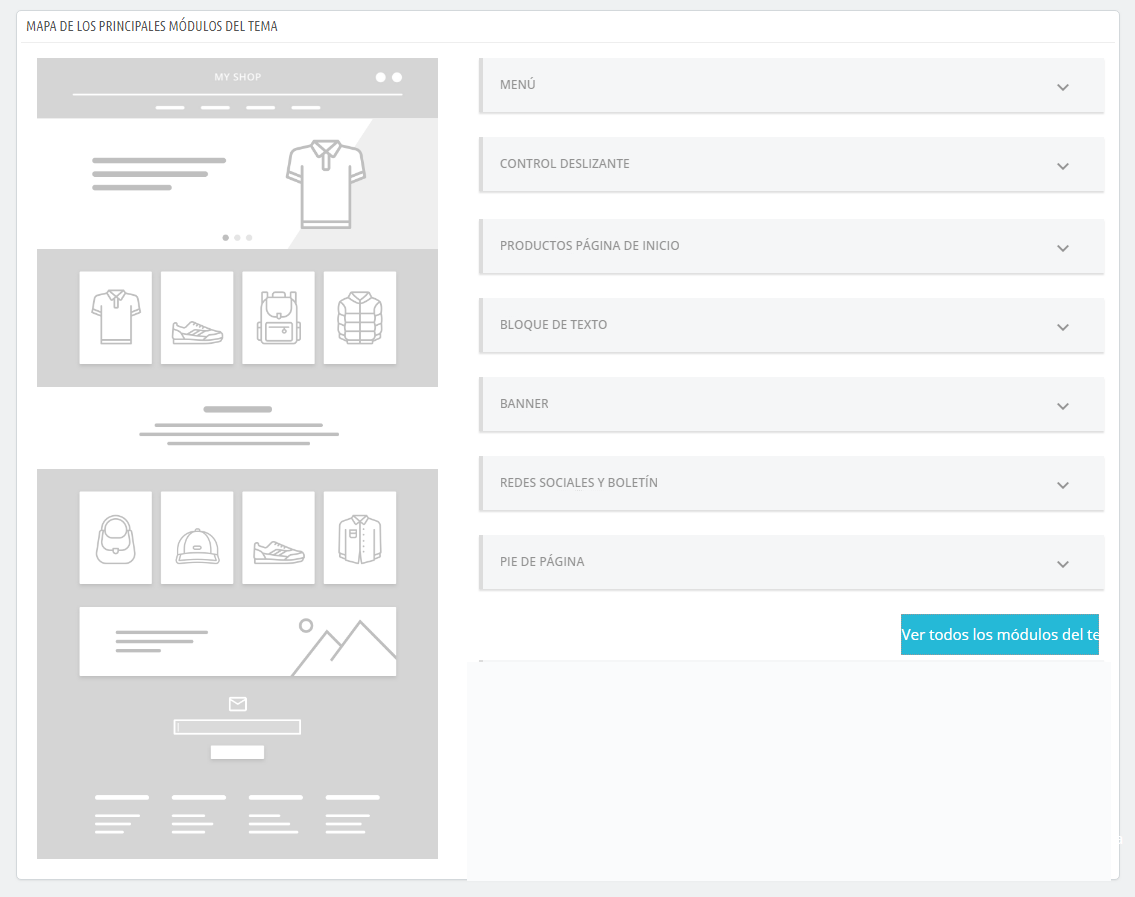 Image Added
En la parte izquierda, encontrarás una ilustración simplificada de la página de inicio, diseñada para identificar de manera interactiva la parte que quieras modificar de un simple vistazo. En la parte derecha se muestran bajo diferentes pestañas desplegables la selección de módulos disponibles para configurar.

Nuestra página de inicio está dividida en 7 categorías diferentes: menú, control deslizante, productos página de inicio, bloque de texto, banner, redes sociales y boletín y pie de página. Cada categoría se presenta en una pestaña desplegable que muestra las funcionalidades pertenecientes al núcleo y los módulos nativos que contienen el área seleccionada. Las funcionalidades pueden ser instaladas, configuradas o deshabilitadas. Ten en cuenta que al hacer clic en el botón "Configurar", el navegador es redireccionado a la página de configuración de funcionalidades.
Personalización Avanzada



Esta sección está destinada a comerciantes y desarrolladores técnicos que desean personalizar su tema utilizando la funcionalidad padre/hijo introducida en PrestaShop 1.7.

Al hacer clic en "Descargar tema", podrás obtener un archivo zip del tema actual. El siguiente paso permite editar el tema con los ajustes deseados, simplemente realiza los ajustes específicos a los archivos deseados para personalizarlo. Finalmente, súbalo. ¡Ya está, el proceso ha sido completado!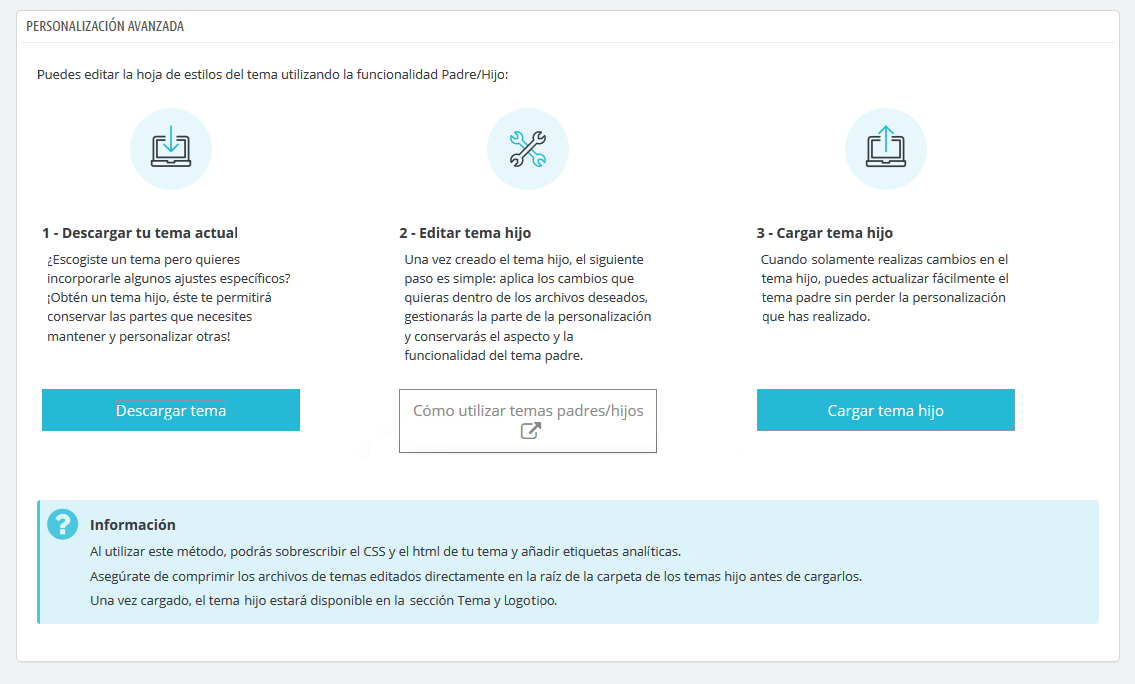 Image Added