Statistics
This section presents in details the usefulness of the various available statistics. By clicking on each of the categories at your disposal in the sidebar of the "Stats" page, the main page reloads with the most up-to-date figures.
For some of the stats, a complete explanation is given, helping you understand the data given to you so that you can use the information to improve your shop and its conversion rate.
Main interface
By default, the page displays the Stats Dashboard, an overview of the main numbers gathered by PrestaShop stat system since you launched your online shop.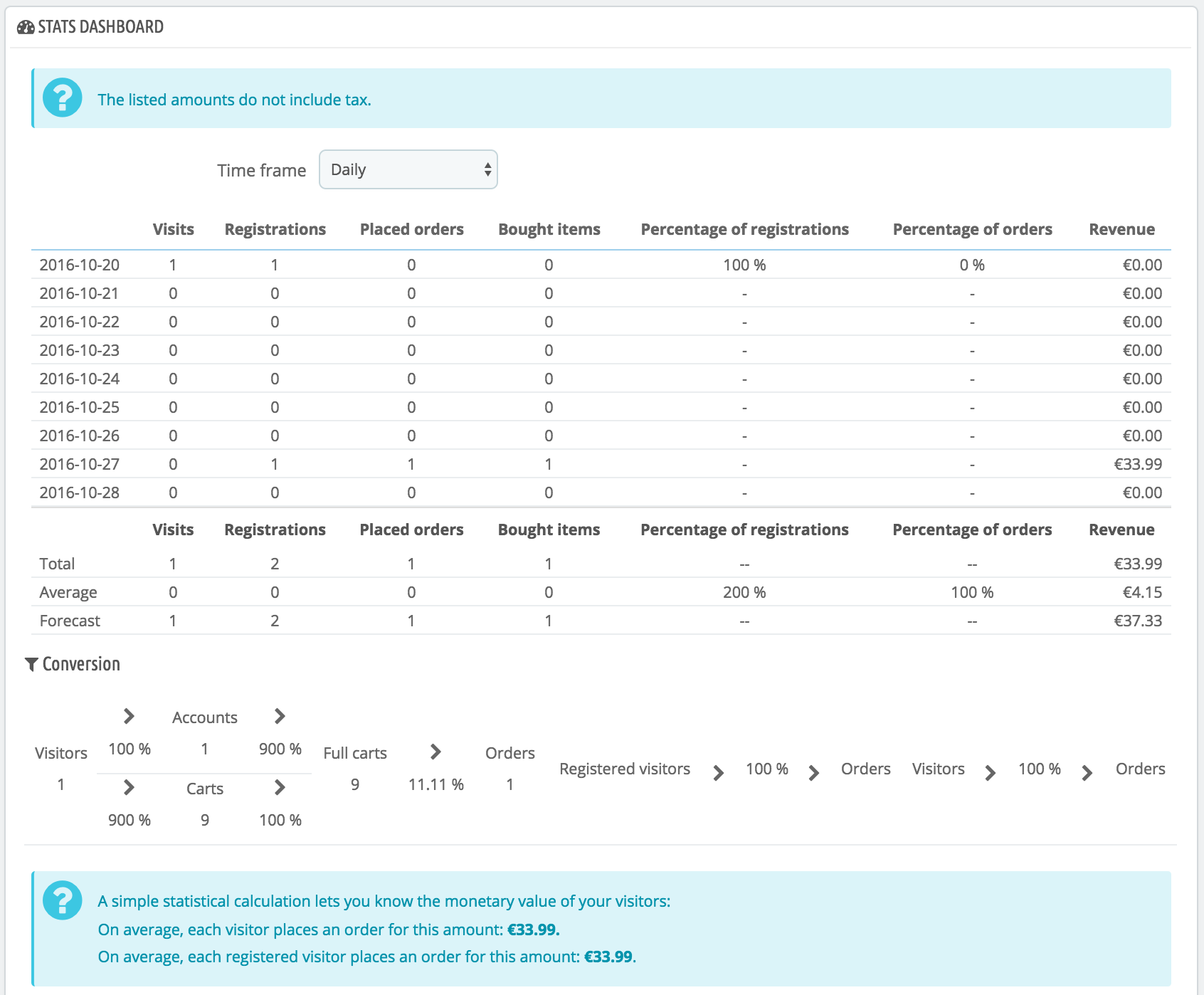 At the top of the page is a single bar which helps you choose the period of time for the currently displayed statistics. Three sets of options are available:
Current day, month or year.
Previous day, month or year.
Precise period selection (from and to dates).
Click on "Save" to display the statistics for the period of your choice.
The dashboard contains 8 sections:
Navigating the statistics
Most of the statistical data can be downloaded as CSV files, by clicking on the "CSV Export" button at the bottom of the page.

Pages not found. This page tells you which pages of your catalog people have attempted to access but could not find (resulting in what is called "HTTP 404" errors). This is useful for finding potential technical problems that may hinder your sales.
Product details. This page shows you all the products in your shop by reference number, name, and available stock. You can filter your results by selecting from the drop-down menu above the product category you want to view. Click on a product to access its statistics. You can then view a chart with two sets of data: sales made and number

of visits to the product page.

The conversion rate of the product will also be displayed.
Registered Customer Information. This section is divided into 5 charts.

Gender Distribution. You can see how your customers are distributed among the various social titles that you have set – by default, Mr. and Mrs., but there can be many others, such as Dr. or Sr. Therefore, you cannot trust this graph to show you the gender distribution... unless you have reduced your social titles to just two gendered ones.
Age Ranges. You can learn about the distribution of your customers according to their age, provided you request their birthdate. If you see that the age range of your customers is not what you imagined it would be, think about adjusting your marketing approach.
Country Distribution. You can quickly consult in which countries your customers are living. This can help you focus marketing efforts on a single country.
Currency Distribution. You can see what currencies are used to shop for items in your shop, and in what proportions.
Language Distribution. You can see in what languages your shop is consulted most often, and thus decide whether or not you should improve your shop's translations in a given language.

Sales and orders. Those two graphs present the evolution of your shop's sales and orders. They can be filtered by country, using the drop-down menu at the top right.

The first graph indicates the total number of valid orders, as well as the total number of products ordered. With this graph, you can analyze which periods gave you the biggest return in terms of quantity of orders.
The second graph helps you visualize your sales graphically. It can analyze the periods of time when you had the greatest sales. This enables you, for instance, to have a better idea of when to start your marketing campaigns.

Search engine keywords. This page tells you what keywords typed into a search engine brought visitors to your online shop. This enables you to know which terms make your shop easily identifiable. Conversely you can see which keywords are absent from this list, and are thus not effective.
Shop search. This section presents two indicators.

The first one is a chart which shows the distribution of keywords typed into your shop's search bar. This allows you to see which products your visitors are most looking for – and therefore, the one you should have plenty of stock of.
The second is a table summarizing your visitors' searches. You can see which keywords are being used, how often they were typed, and how many results were available. It is important that all of your customers' requests get a result. To improve your shop, be sure to add the products that meet the customers' demands (searches) or add additional tags to your products that are easily identifiable.

Stats Dashboard. This is the stats homepage itself. It presents a bird's eye view of your shop's stats. Clicking this last option simply takes you back to the global stats dashboard.
Visitors online. This section indicates the number of visitors currently on your shop. You can see their names and the pages that they are currently looking at. The data is updated live, as visitors browse your shop.

The "Save page views for each customer" option in the "Data mining for statistics" (StatsData) module must be activated in order to see the pages that your visitors are currently viewing.

Visitors origin. This page uses a graph to give you the top ten sites and search engines that have sent visitors to you. Usually, search engines play a very important role. If you create a marketing campaign by publishing articles on other sites, you can see what impact it had on your shop. Below the graph are

the names of the sites that brought you your audience, with the number of visitors from each on the

right-hand

column.

Visits and Visitors. This page gives you statistics on visitors to your shop and the number of times they visit. The larger the number, the more popular your shop is. The graph helps you understand the behavior of your visitors. Basically, you will see how many visits your shop gets, and you can compare it to the number of visitors (PrestaShop can recognize when the same person visits your shop multiple times, hence why the number of visits will be much higher than the number of visitors). The greater the difference between the two numbers, the more you are succeeding in creating a faithful base of core customers.