Skip to end of metadata
Go to start of metadata
Movimientos de Stock
La tabla de movimientos de stock le proporciona un registro de todos los cambios de stock realizados hasta el momento. Esta tabla sólo tiene un rol informativo, y por lo tanto no puede ser editada.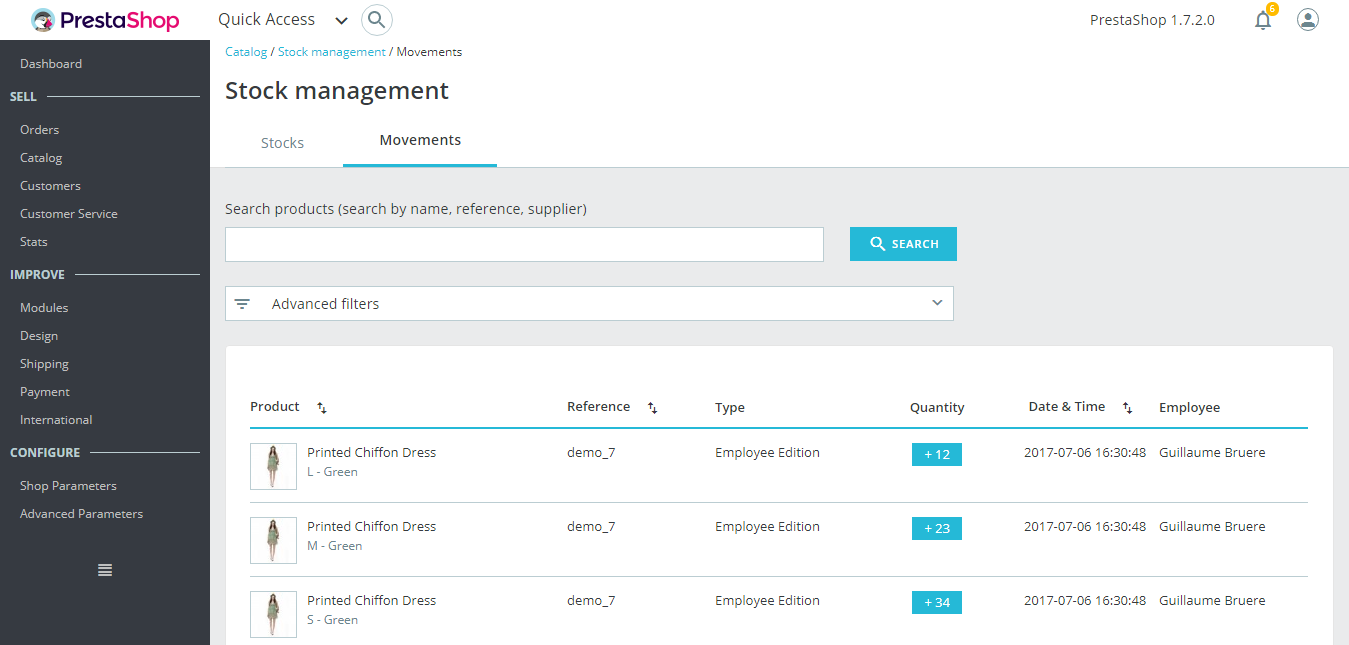 Visión global de los movimientos
Estructura
La estructura es similar a la de la tabla de stock vista anteriormente, pero aquí cada línea corresponde a un cambio en la cantidad física de un producto o combinación. Esta contiene las siguientes columnas:

Imagen en miniatura, para ayudarle a reconocer el producto rápidamente de manera visual.

Nombre del producto y cuando este es una combinación, los valores de sus atributos.

Referencia del producto. En caso de que una combinación tenga su propia referencia, entonces se usará esta en lugar de la referencia del padre.

Tipo de movimiento. Representa la razón por la cual la cantidad física de un producto ha cambiado.

Cantidad añadida o eliminada. Esta delta está formateada con una etiqueta + o - para facilitar el reconocimiento visual.

Fecha y hora, que muestra la hora exacta del servidor cuando se produjo el cambio.

Empleado, que es el nombre de la persona responsable del cambio.
De manera predeterminada,

los movimientos de los stocks son ordenados por fecha descendente

,

de modo que los movimientos de stock más recientes se encuentran en la parte superior.



Tipos de movimiento de

stock
A partir de la versión 1.7.2.0, tres tipos de movimientos pueden ser creados cuando se desencadenan los siguientes eventos:
Edición manual por parte de un empleado, cuando por ejemplo se modifica la cantidad de un producto dentro de la tabla de stock.

Pedido de un cliente, when an order switches from a status equivalent to 'not shipped' to another status equivalent to 'shipped' (and vice-versa). For instance, when you ship an order that was under preparation, this will create a stock movement, as the physical quantity of items shipped literally leaves your warehouse.

Returned products, when you refill a product's stock after receiving and accepting the merchandise return.
In the last two cases, the movement type in the table becomes an hyperlink to the corresponding customer order, so you have more context about this type of movement and don't have to cross-check time stamps between the stock movements and orders tables.
Search and filter options
Search bar
See above. The search has exactly the same behavior as in the "Stock" tab.
Advanced filters
In the 'Movements' tab, advanced filters contain:
a movement type filter, which allows you for instance to look for stock movements related to customer orders.

an employee filter.

a date range filter, if you're looking for stock movements which happened during a specific period.

and a category filter, like in the 'Stock' tab.