...
Info
Le informazioni per configurare l'SMTP ti possono essere fornite tramite:
L'amministratore del tuo sistema,

Il tuo hosting,

Il tuo ISP,

Il tuo provider e-mail.

Image Removed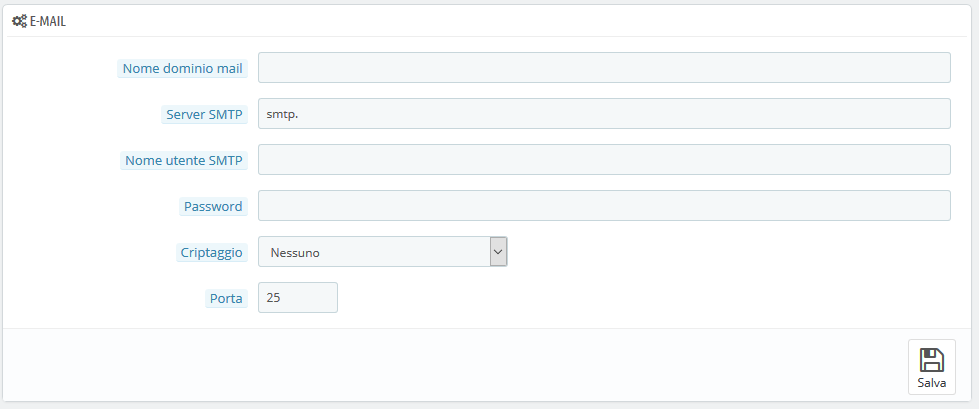 Image Added
Your web host can tell you whether or not your username is mandatory, as well as the password information, and the encryption to use.
For example, in the case of Gmail (the email service offered by Google), you might have to enter information such as the following oneIl tuo hosting web può dirti se il tuo nome utente è obbligatorio, nonché fornirti le informazioni sulla password e il criptaggio da utilizzare.
Ad esempio, nel caso di Gmail (il servizio di posta elettronica offerto da Google), potrebbe essere necessario immettere informazioni come quelle seguenti:
Visual configuration
There are two formats available for e-mails: HTML is great to look at, but might not work everywhere; text is dull to look at, but works everywhere.
You can choose to use only one of the two, or both. Both is the recommended way.
Test your email configuration
Once you have configured your emails using one of the two available methods, enter your own e-mail address in this section, then click the "Send a test email" button.
Now check the inbox of the address provided to verify that you indeed have received the test email, in the correct format. If you have not received it, update your configuration with the correct information.
...
Configurazione visuale
Sono disponibili due formati per le email: l'HTML è più gradevole alla vista, ma potrebbe non funzionare ovunque; il testo è noioso visivamente, ma funziona ovunque.
Puoi scegliere di utilizzare solo uno dei due o entrambi. Entrambi è la modalità consigliata.
Prova la tua configurazione email 
Dopo aver configurato le tue email utilizzando uno dei due metodi disponibili, inserisci il tuo indirizzo email in questa sezione, quindi clicca sul pulsante "Invia una email di prova".
Ora controlla la casella di posta dell'indirizzo fornito per verificare di aver ricevuto l'email di prova nel formato corretto. Se non l'hai ricevuta, aggiorna la configurazione con le informazioni corrette.

Image Added