...
De sectie "Bestelgeschiedenis" van zijn of haar account bezoeken.
De bestelling kiezen waarvoor hij een item wilt retourneren.
De producten selecteren die hij of zij wilt retourneren door de checkbox naast de na(a)m(en) aan te vinken.
(optioneel) Een uitleg toevoegen, om de winkel op de hoogte te brengen van de reden.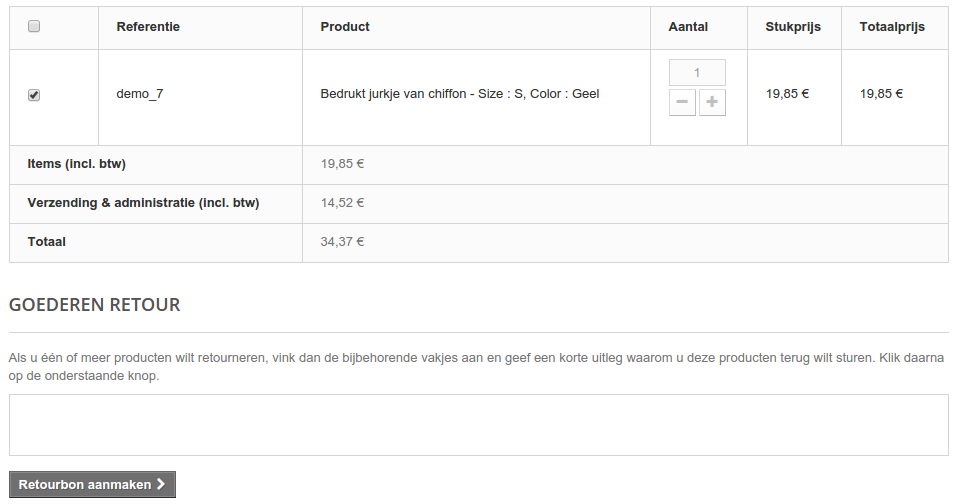 Info
| | |
| --- | --- |
| title | Wanneer kan een bestelling geretourneerd worden? |
Deze statussen moet een bestelling hebben gehad om te kunnen retourneren:
Minimaal twee statussen hebben gehad, waarbij de één de optie 'Zet bestelling op betaling ontvangen.' heeft en de ander 'Zet de bestelling op verzonden.' heeft.
Óf
Een status waarbij beide opties zijn ingeschakeld.
Dit kan gecontroleerd worden onder 'Bestellingen > Statussen'.
Zodra het formulier is voltooid, klikt de klant op "Retourbon aanmaken" en het verzoek wordt verzonden naar de winkelmanager (u). Het verzoek verschijnt als "Wacht op bevestiging" op de pagina "Goederenretourzendingsverzoek", beschikbaar vanaf de klantportal.
...