...
Geolocatie instellen
Geolocation Geolocatie is "the identification of the real-world geographic location of an object, such as a radar, a mobile phone or an Internet-connected computer" (read more on het "identificeren van de geografische locatie op de wereld van een object, zoals een radar, mobiele telefoon of een computer met internet" (lees meer op http://en.wikipedia.org/wiki/Geolocation ). In our case, geolocation is used to discover the location of a visitor, using his or her computer's IP and other tools. One of the uses of geolocation is to block visitors from certain cities/countries.As indicated the first time you open the "Geolocation" page, in order to use geolocation, you need download a special file firstons geval wordt geolocatie gebruikt om de locatie van een bezoeker te vinden, door gebruik te maken van zijn of haar ip-adres en andere gegevens. Eén van de use cases van geolocatie is het blokkeren van gebruikers uit specifieke steden of landen.
Zoals de eerste keer dat u de pagina opent wordt aangegeven, moet u eerst een speciaal bestand downloaden: http://geolite.maxmind.com/download/geoip/database/GeoLiteCity.dat.gz. This file Dit bestand is the de GeoLite City database from van MaxMind, an accurate database of cities and locations. Download it by clicking on the link, and then decompress it into the een nauwkeurige database van steden en locaties. Download deze door te klikken op de link en pak het daarna uit in de map /tools/geoip/ directory of your PrestaShop installation.Once the file is in place, enable the "Geolocation by IP address" option, and you are set van uw PrestaShop-installatie.
Zodra het bestand is geplaatst, kunt u de optie "Geolocatie per IP-adres" inschakelen en u bent klaar.

Image Modified
Options
You can choose which countries can access your shop (by default, all of them), and set PrestaShop's behaviors for restricted and unrestricted countries (or "other" countries). You choose between these three options:
Visitors cannot see your catalog.

Visitors can see your catalog but cannot make an order. In effect, you shop is in "Catalog mode".

All features are available (only for unrestricted countries).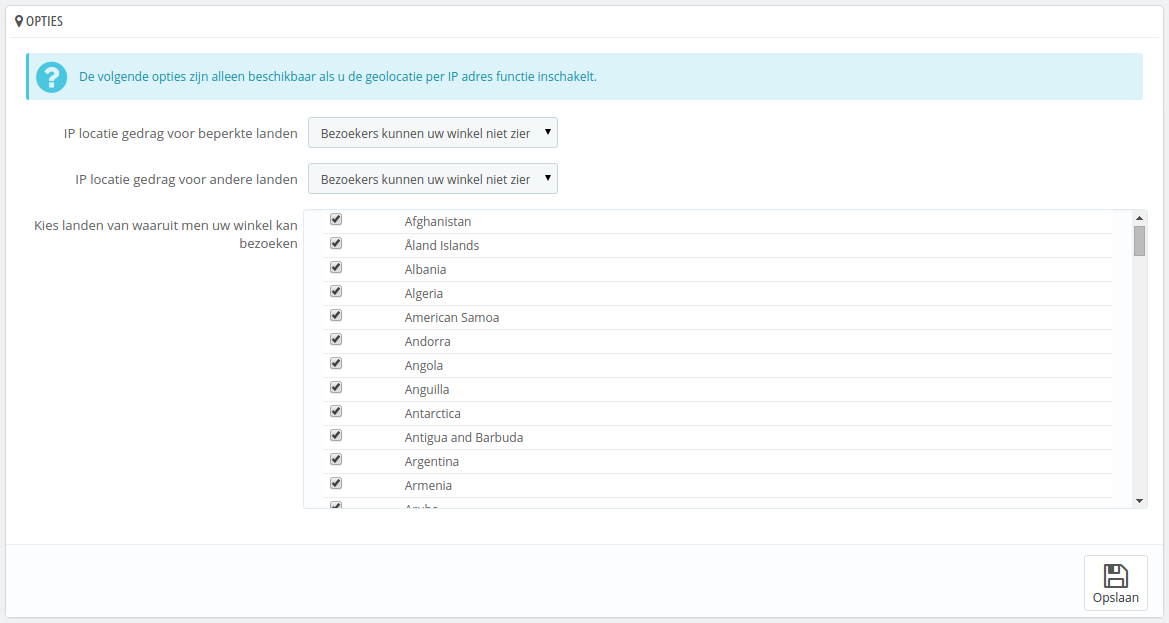 Image Removed
You can select or deselect all countries at once by checking the box at the top of the list. When selecting countries that can access your online shop, make sure to not block any country by mistake, as you would lose all potential sales to its inhabitants!
Whitelist of IP address
...
Opties
U kunt kiezen welke landen toegang hebben tot uw winkel (standaard allemaal) en PrestaShop's gedrag aanpassen voor landen met beperkingen. U hebt de keuze uit drie opties:
Bezoekers kunnen uw winkel niet zien.

Bezoekers kunnen uw winkel zien, maar geen bestellingen plaatsen.

Alle functies zijn beschikbaar (alleen voor landen zonder beperkingen).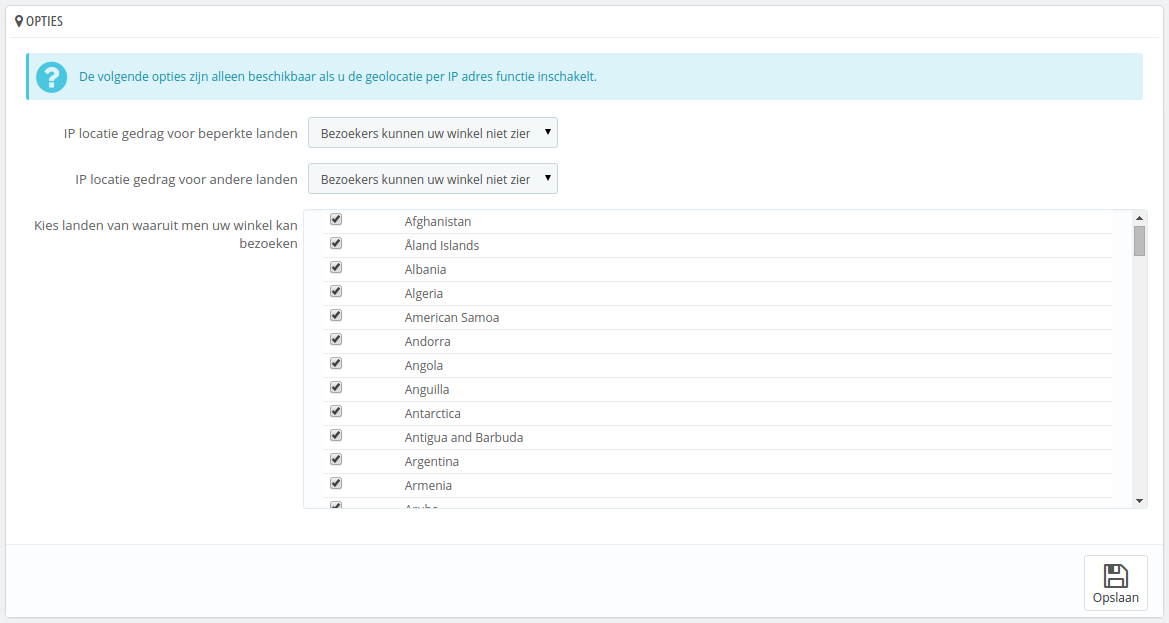 Image Added
U kunt meerdere landen selecteren of deselecteren door de checkboxes aan te vinken. Wanneer u landen selecteert die toegang hebben tot uw winkel, zorg er dan voor dat u landen niet per ongeluk blokkeert, want u kunt potentiële klanten kwijtraken!
IP adres toegangslijst
Deze sectie maakt het mogelijk om specifieke ip-adressen toegang te geven, ondanks de landblokkade. Het kan handig zijn in het geval van spammers, bots of aanvallen. Het is al gevuld met een lijst van bekende goede ip-adressen. Voeg er zoveel toe als nodig is, één per regel en klik op "Opslaan".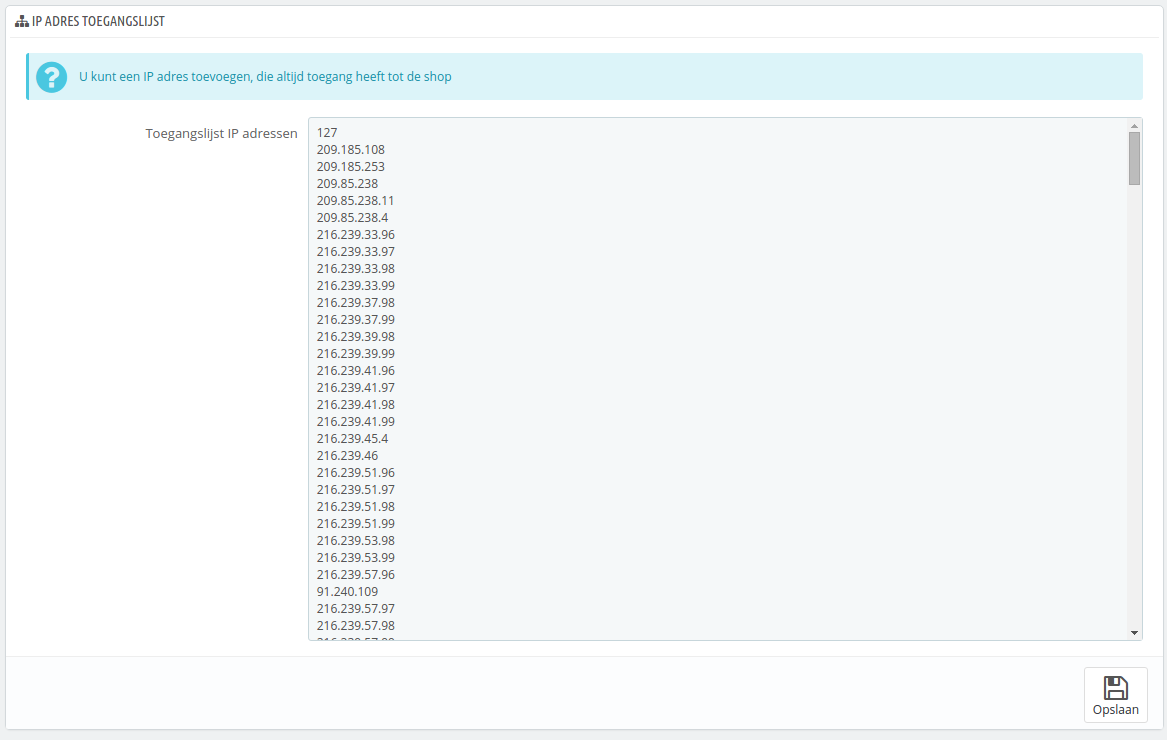 Image Modified