Customers Preferences
...
Klanten instellen
De configuratiepagina "Klanten" biedt opties gerelateerd aan klanten en met name de B2B-modus.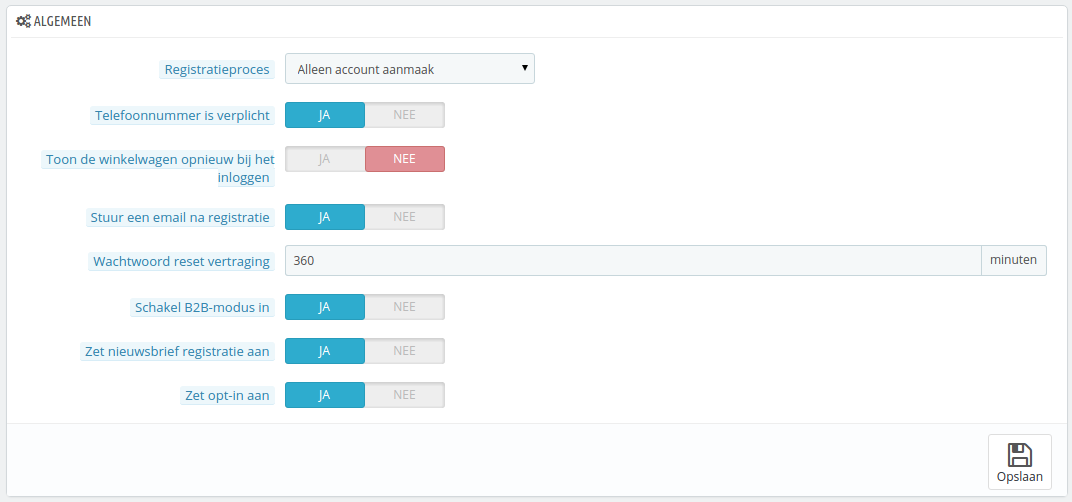 Image Modified
Registration process type

. You can let visitors create a new account without any immediate obligation to register an address, or force them to register an address as soon as they create their account.




The first option makes it quicker to create account, which is great, but this will add a new mandatory screen once they want to validate an order, which can turn them off.




On the other end, the second option makes account creation longer, but at least they will already have an address registered when they want to validate an order.

Phone number is mandatory

. Likewise, you can require your client to register a phone number, or not. Having a phone number can prove invaluable to you, as this makes it possible to contact a client directly, but some client resent giving this kind of information. If you select "No", the "Phone number" fields will still appear in the address creation form, but they will no longer be mandatory.

Re-display cart at login

. If the customer had a cart that was not checked-out, display it once he or she logs back in.

Send an email after registration

. You can have PrestaShop send an e-mail to any newly-created customer with a summary of his account information (email, password) after registration.

Password reset display

. You can choose to limit the frequency at which a customer can generate a new password for his or her account. By default, it is set at 360 minutes – 6 hours.

Enable B2B mode

. The B2B mode brings a handful of new features to your store. Customers are no longer considered as individuals but as companies, and therefore some new options appear: 




The customer profile has new fields related to professional information (Duns number in the USA, SIRET number in France, CNPJ number in Brazil, etc.),

Prices can be masked to specific groups,

Prices can be managed on a per-customer basis for the whole catalog or per category,

Invoices can be generated manually

Registratieproces

. U kunt bezoekers een nieuw account laten aanmaken zonder verder verplichtingen zoals het toevoegen van een adres.




De eerste optie zorgt ervoor dat het aanmaken van een account sneller gaat, maar dit voegt een nieuwe verplicht scherm toe zodra ze een bestellingen willen afronden en dit kan hen afschrikken.




Aan de andere kant, zorgt de tweede optie ervoor dat het aanmaken van een account langer duurt, maar klanten hebben in ieder geval een adres dat meteen gebruikt kan worden bij het afrekenen.

Telefoonnummer is verplicht

. Op dezelfde manier kunt u de klant verplichten om een telefoonnummer toe te voegen. Met een telefoonnummer kunt u een klant sneller bereiken ("Een beller is sneller!", red.), maar sommige klanten weigeren een telefoonnummer in te voeren. Als u deze optie uitschakelt, dan verschijnt het telefoonveld wel, maar hoeft deze niet verplicht ingevuld te worden.

Toon de winkelwagen opnieuw bij het inloggen

. Als de klant een winkelwagen had die nog niet was afgerekend, dan wordt deze opnieuw weergegeven als hij of zij opnieuw inlogt.

Stuur een email na registratie

. U kunt PrestaShop een e-mail laten sturen na de registratie met daarin een kort overzicht van de klantgegevens (e-mail, wachtwoord).

Wachtwoord reset vertraging

. U kutn ervoor kiezen om de regelmaat waarmee een wachtwoord opnieuw gegenereerd wordt te limiteren. Standaard staat dit limiet op 360 seconden – 6 uur.

Schakel B2B-modus in

. De B2B-modus biedt een handvol nieuwe mogelijkheden voor uw winkel. Klanten worden niet langer beschouwd als slechts particulieren, maar ook als bedrijven en hierdoor verschijnen er nieuwe opties:




Het klantprofiel heeft nu nieuwe velden geschikt voor zakelijke informatie (Duns-nummers in de VS, SIRET-nummers in Frankrijk, CNPJ-nummers in Brazilië, KvK-nummers in Nederland, etc.)

Prijzen kunnen beperkt worden tot specifieke groepen,

Prijzen kunnen per klant beheerd worden voor de gehele catalogus of per categorie,

Facturen kunnen handmatig gegenereerd worden

,
etc.