...
Warning
No utilice dos puntos en el nombre de su tienda, ya que podría impedir que alguna funcionalidad trabaje correctamente (por ejemplo, esto prodría provocar fallos en el envío de correos electrónicos).
Puede reemplazar los dos puntos por un guión si usted necesita tener dos partes diferenciadas en el título. Por ejemplo, utilice "Mi Tienda - El mejor sitio  para comprar artículos" en lugar de "Mi Tienda:  El mejor sitio  para comprar artículos".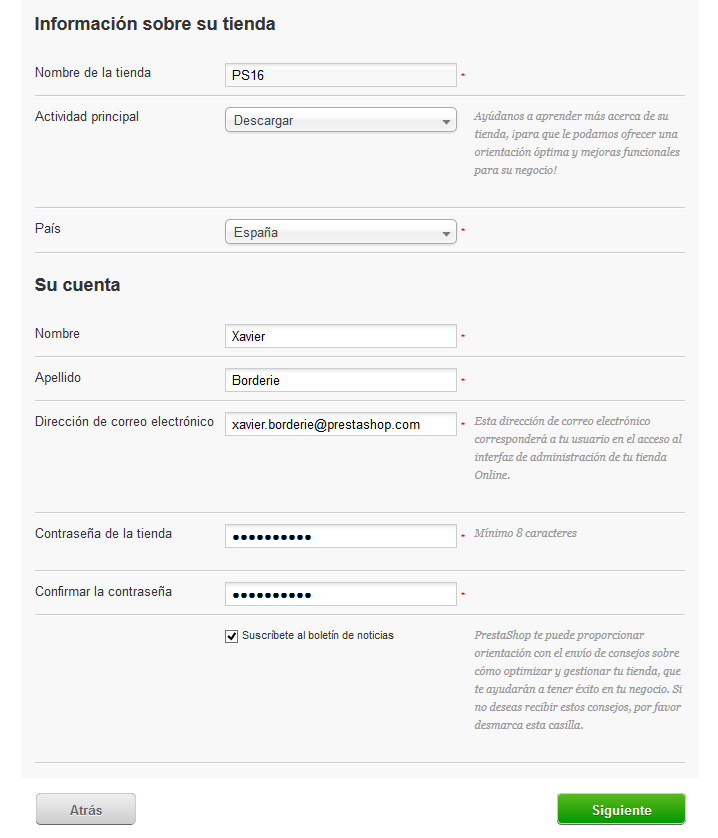 Concerning the logo, you should note that it will appear:
...
En cuanto al logotipo, debe tener en cuenta que aparecerá:
En

todas las páginas

de

su tienda

(dependiendo

del tema utilizado

)

.

En

su back-office

.

En todos los

correos electrónicos enviados

a sus clientes

.

En

todos los documentos

contractuales (

facturas

, autorizaciones

de devolución

, etc.)

.
Therefore, do not keep the default PrestaShop logo, for obvious reasons.
Click "Next" to continue.
Step 5: System configuration
This page contains a form that enables you to tell PrestaShop where the database server is, and which database it should use, along with a few other details. All this information should have been provided to you by your web hostPor lo tanto, no mantenga el logotipo predeterminado de PrestaShop, por razones obvias.
Haga clic en "Siguiente" para continuar.
Paso

5

:

Configuración del sistema
Esta página contiene un formulario que le permite informar a PrestaShop donde se encuentra el servidor de la base de datos, y que base de datos desea utilizar, junto con algunos otros detalles. Toda esta información debería haber sido proporcionado por su proveedor de alojamiento web.

Fill all the fields with the database connection information provided by your web-host:
...