...
PrestaShop es muy fácil de instalar. Una vez que todos los archivos estén subidos a su servidor web, debería poder empezar a configurar su tienda en menos de 5 minútosminutos: el proceso de instalación es muy sencillo, ya que el instalador se encarga practicámente de todo el trabajo sin usted apenas tenga que intervenir. Los usuarios menos experimentados podrían necesitar entre 10 y 20 minutos para completar todo el proceso.
...
Gracias a FileZilla (y la mayoría de los clientes FTP), no tiene que utilizar ningún comando de Unix. La mayoría de los clientes FTP permiten cambiar los permisos con facilidad y de forma gráfica: una vez que haya encontrado un archivo o directorio que necesita un cambio de este tipo, haga clic con el botón derecho del ratón sobre éste, y en el menú contextual, seleccione "Permisos de archivo...". Se abrirá una pequeña ventana como la que se muestra a continuación.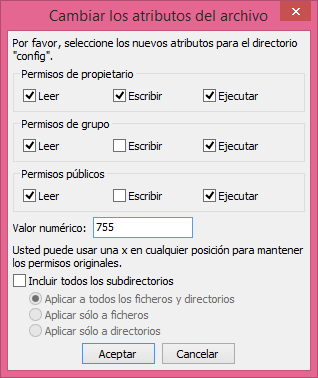 Depending on your server configuration Dependiendo de la configuración del servidor (which you don't always have a hand at), you will need to check both the "Read" and "Execute" columns of boxes, and at least the "Owner" and "Group" rows for the "Write" column. Some hosts might require you to have the public "Write" box checked, but be careful with that: it is rarely a good thing to have anyone on your server be able to edit the content of your PrestaShop installation.
...