...
The module's interface cannot be missed: it is the first thing you'll see at the top of each and every page of the back-office, before the page's own content.
...
Clicking the "Let's start!" button launches the whole process – which can be interrupted at any time, and finished later on. That process is shared between in a window which appears on top of the back-office interface, which will give you instructions to follow, and the main interface itself, where you are expected to follow those instructions.
...
In the background, the module has already switched the current page to the Themes preference page. Click on "OK, take me to my theme" to hide the module's window and work on your theme: you can either change switch from the default theme for to one that is already available, or you can get a new one from PrestaShop's marketplace, Addons: http://addons.prestashop.com/
...
You might prefer to use a faster module way and install a carrier module. A few are listed by default on the main page, but you find more on the "Modules" page. Install the one with which you have a contract, and configure the module with your contract information.
...
You have gone through all the essential steps in configuring your shop. There are many othersother steps, but those are necessary for selling on the Internet.
...
Before you put your shop out of maintenance mode and make it available to everyone on the Internet, you might want to wait a bit and check all the other preference pages in the back-office, making sure that they are all set the way you want them to. If so, do not click on "Launch" and click on the cross button in order to close the module's window.
Once you have it all set, go to the Maintenance preference page and enable your shop. Done! Good luck with your online endeavors! Start them by promoting your shop: share your launch on social networks using the final window of the module.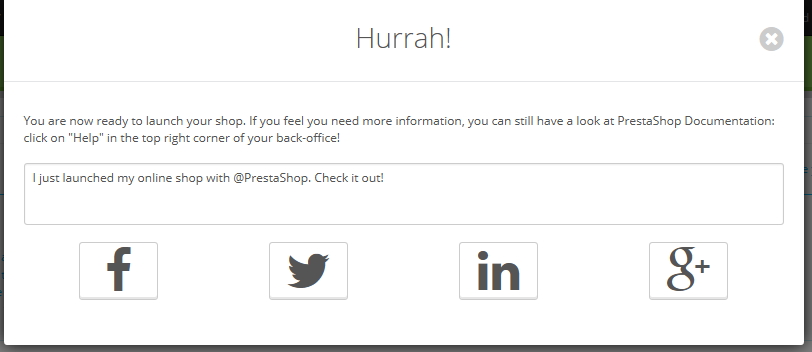 One Once you are done, the module does not appear anymore in your back-office.