...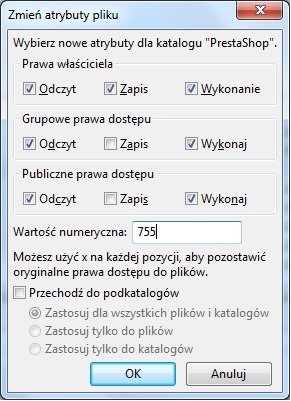 Zależnie od konfiguracji serwera,  
Depending on your server configuration (which you don't always have a hand at), you will need to check both the "Read" and "Execute" columns of boxes, and at least the "Owner" and "Group" rows for the "Write" column. Some hosts might require you to have the public "Write" box checked, but be careful with that: it is rarely a good thing to have anyone on your server be able to edit the content of your PrestaShop installation.
będziecie musieli zmienić zarówno prawa odczytu  ("Odczyt") jak i wykonywania ("Wykonaj"). Natomiast prawa zapisu ("Zapis") muszą być przynajmniej przyznane  właścicielowi ("Prawa właściciela") i grupie ("Grupowe prawa dostępu"). W niektórych przypadkach może być konieczność przyznania praw zapisu dla dostępu publicznego ("Publiczne prawa dostępu"), zalecamy ostrożność zwykle nie jest dobrym pomysłem dawanie możliwości edycji instalacji PrestaShop wszystkim użytkownikom serwera. 
Some folders might need to have all their files and sub-folders change permissions too. In that case, check the "Recurse into subdirectories" box.
...