...
It also features the "Demo mode" block, from which you can disable the fake data used by default on the Dashboard and use your own data (as gathered by PrestaShop's statistics system).

|
Reorder the elements
On your dashboard, you have the possibility to change the order of the elements displayed on each column (left and center, see above). It is mostly useful if you have additional modules or if you want to focus on some statistics that are not on the first position.
To change the order, please follow these steps:
Go to Design / Position page (via your menu)

Select "Show: All modules"

Check the "Display non-positionable hooks" checkbox

In the "Search of a hook" field, enter "dashboardZoneOne" for the left column, or "dashboardZoneTwo" for the right column.

Image Added
Now you see all the elements hooked on the left/center columns.
To change the positions, you can drag and drop them or you can click on the small arrow close to the module logos, as shown below :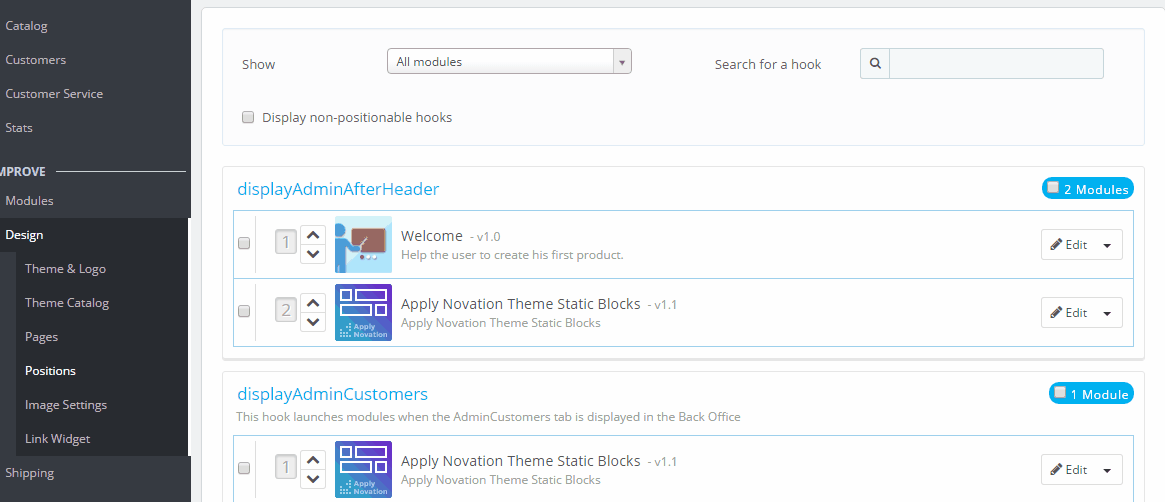 Image Added