...
El programa de instalación hace lo siguiente:
Create the Crear el archivo settings.inc.php file, and fill it with your settings.

Create the database tables.

Create the default shop with its default languages.

Populate the database tables.

Configure the shop's information.

Install the default modules.

Install the demonstration data (products, categories, user, CMS pages, y rellenarlo con sus ajustes.

Crear las tablas de la bases de datos.

Crear la tienda por defecto con sus idiomas predeterminados.

Rellenar las tablas de la bases de datos.

Configurar la información de la tienda.

Instalar los módulos por defecto.

Instalar los datos de demostración (productos, categorías, usuario, páginas CMS, etc.).

Install the theme.
Once it is done, your shop is installed and ready to be configured!
Completing the installation
As you can read right on the final page of the installation process, there are a couple of last actions to perform before you can leave the installer.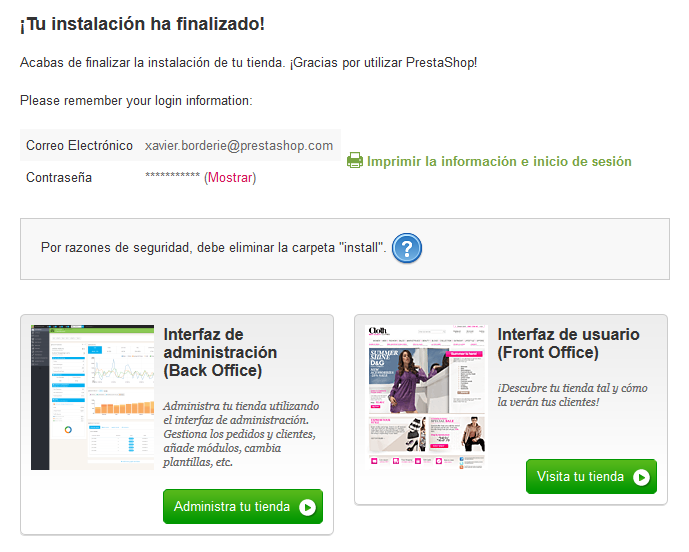 Image Removed
...
Una vez realizado el proceso, ¡su tienda está instalada y preparada para ser configurada!
Finalización de la instalación
Como puede leer a la derecha en la página final del proceso de instalación, tendrá que realizar algunas acciones últimas    antes de poder salir del instalador.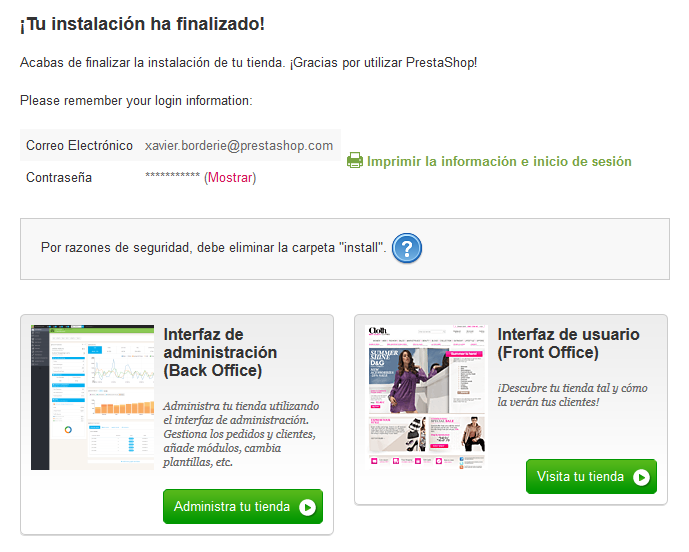 Image Added
Una manera fácil de mejorar la seguridad de su instalación es borrar algunos archivos y carpetas importantes. This is done using your FTP client, directly on the server. The items to delete are:
...