...
Puede descargar la última versión de PrestaShop desde el siguiente enlace: https://www.prestashop.com/es/descarga.

Image Removed
You only have one download option: the latest stable version, ready for all kinds of online stores.
...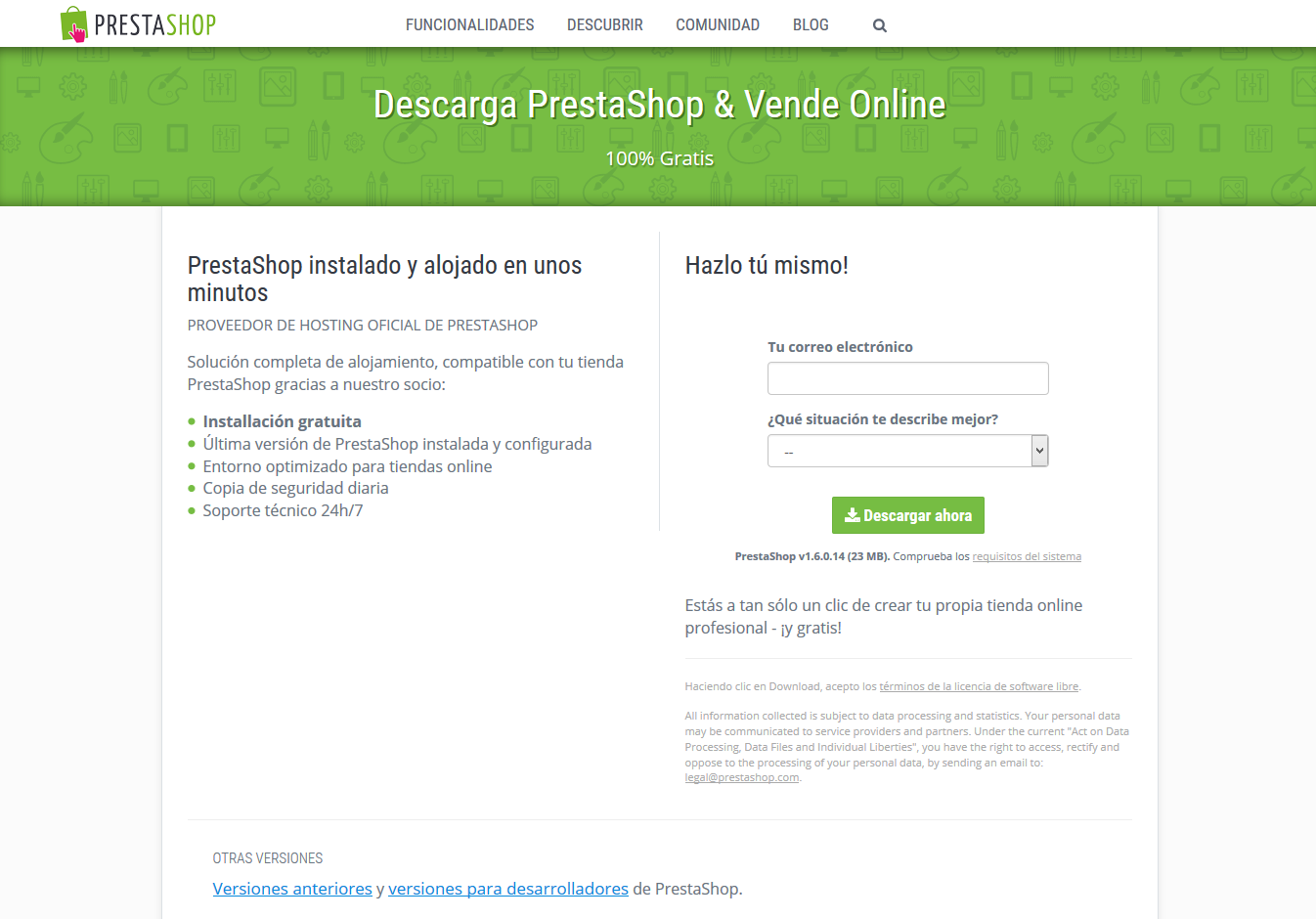 Image Added
Tan sólo tiene una opción de descarga: la última versión estable, preparada para toda clase de tiendas online.
Info
Si necesita descargar cualquier versión anterior o previa, diríjase a esta dirección: https://www.prestashop.com/enes/developers-versions. Scroll down to the "Previously released versions" section.
Note that it is never recommended to use any other version than the current stable one.
...
Desplácese hacia abajo de esta página, hasta encontrar la sección denominada: "Versiones publicadas anteriormente".
Nota: Tenga en cuenta que no se recomienda el uso de otra versión que no sea la versión actual estable. Le recomendamos encarecidamente utilizar la última versión de PrestaShop para crear una tienda online.

Haga clic en el botón "Descargar ahora", y guarde el archivo en cualquier ubicación de su ordenador (como por ejemplo en el escritorio). Debería obtener un archivo llamado "prestashop_1.6.0.414.zip" (or an equivalent, depending on the version numberso un equivalente similar, que dependerá del número de versión).
Tip
The downloaded file is a Zip archive, meaning one file containing all of PrestaShop's files in compressed form. In order to continue with the process, you must uncompress the archive.
If your operating system does not natively support Zip files, you can download and install a dedicated tool, such asEl archivo descargado es un archivo Zip, lo que significa que ahora tiene un archivo que contiene todos los archivos que forman PrestaShop de forma comprimida . Con el fin de continuar con el proceso, debe descomprimir el archivo.
Si su sistema operativo no soporta de forma nativa archivos Zip, puede descargar e instalar una herramienta específica, como por ejemplo:
Using a Utilizando una herramienta Zip tool, extract the content of the archive to a known location on your hard-drive (such as on the Desktop again). Do not upload the Zip file directly to your web server.
...
The Zip archive has two items at its root :
...
, extraiga el contenido del archivo en una ubicación de su disco duro (como por ejemplo en el escritorio ). No cargue/suba el archivo Zip directamente a su servidor web.
Info
El archivo Zip tiene dos elementos en su raíz:
La carpeta "prestashop",

que contiene

todos los archivos

de PrestaShop

que

pronto

va a

subir

en su servidor web

.

El archivo

"Install_PrestaShop.html"

file, which opens this very page in your default browser.
The
,

que se abre

en el navegador predeterminado

.
El archivo "Install_PrestaShop.html" must not be uploaded on your web serverno debe ser cargado/subido a su servidor web.
Uploading PrestaShop
You should now have a hosting space at your disposal (if not, read the "What you need to get started" chapter of this guide), and a folder on your hard-drive with the uncompressed PrestaShop archive.
...