...
Info
CHMOD to komenda pozwalająca na zmianę upewnień do plików/folderów w systemach Unix/Linux (opis komendy i uprawnień: http://pl.wikipedia.org/wiki/Chmod)
Nadawanie plikom i folderów "praw zapisu" oznacza "CHMOD 755" lub "CHMOD 775" - zalezie od serwisu hostingowego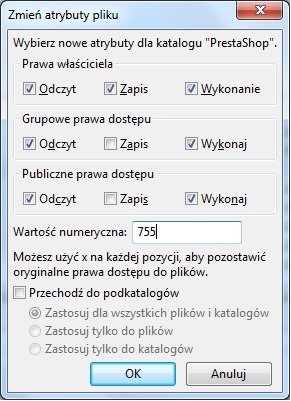 Image Added
Zależnie od konfiguracji serwera, 
Depending on your server configuration (which you don't always have a hand at), you will need to check both the "Read" and "Execute" columns of boxes, and at least the "Owner" and "Group" rows for the "Write" column. Some hosts might require you to have the public "Write" box checked, but be careful with that: it is rarely a good thing to have anyone on your server be able to edit the content of your PrestaShop installation.
Some folders might need to have all their files and sub-folders change permissions too. In that case, check the "Recurse into subdirectories" box.
While changing permissions in your FTP client, you should regularly check that you have made the correct changes by running the installer's compatibility checks again: click the installer's "Refresh these settings" button as often as necessary.
Once all indicators are green, you can click "Next". If you cannot have them all green, at least make sure the installer displays the "PrestaShop compatibility with your system environment has been verified!" message at the top of the page.