...
The default installation features a handful of products – mainly Apple products, along with a couple third-party accessories. Their only use is to help you explore the setup of a functional store. After you've learned the intricacies of the ties between products, categories, orders and customers, you should delete all these items in order to start your shop with a clean slate.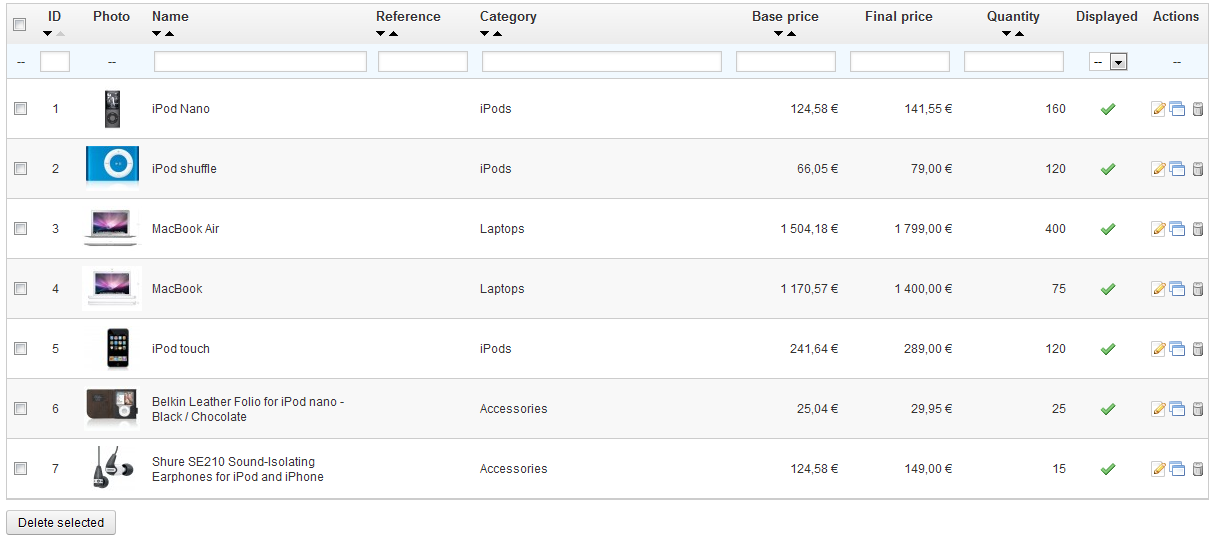 Image Modified
You must therefore delete all the default data, which means:
...
PrestaShop is able to work with many languages, both on the front-office and the back-office. Each text-field is accompanied with a flag icon, which indicates the current language, and which you can click in order to choose another language in which to write that field's content.

Image Modified
By default, PrestaShop is only installed with one language: English. You can easily enable more languages: open the "Localization" menu, choose the "Languages" item, and the page opens, with a table of all 5 available languages: English, German, Spanish, French, and Italian. The currently enabled language(s) have green check mark, while the others have a red "X". Click on any of the red "X" in order to enable its language.
...
To assign permissions to an employee profile, go to the "Employees" menu, select "Permissions", and select the profile you just created. A long list of permissions appears. By default, a new profile cannot do much. It is up to you to set exactly the parts of your shop which that employee profile should have access to. It can be a tedious task, but it is an important.

Image Modified
To create an employee account, go to the "Employees" menu, select "Employees", and click the "Add new" button. Fill in the details, and do not forget to select the employee profile at the bottom. Once done, click the "Save" button.
...