Skip to end of metadata
Go to start of metadata
Table content
Exploring PrestaShop's Tools
PrestaShop's "Tools" tab provides access to various tools that enhance your PrestaShop experience.
Languages
The "Language" tab manages the languages you'll see in your back office and your shop. When you click on this tab the page below is displayed.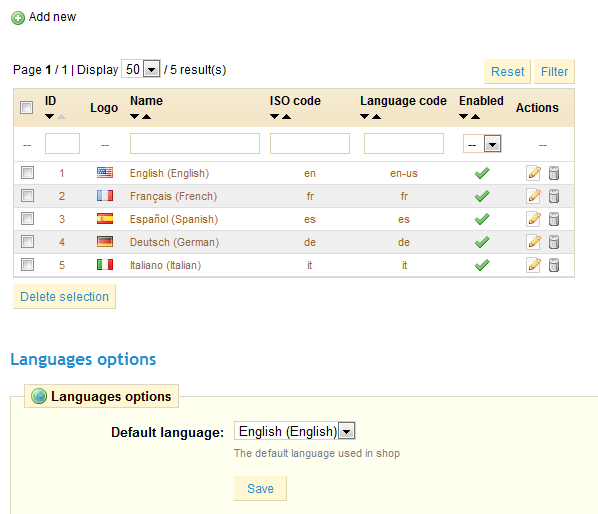 This screen displays the languages already installed on your shop.
In the "Language options" section, you can select which language will be displayed by default, both in the back office and the front office.
If you want to add a language to your store, click the "Add New" to reach the form below.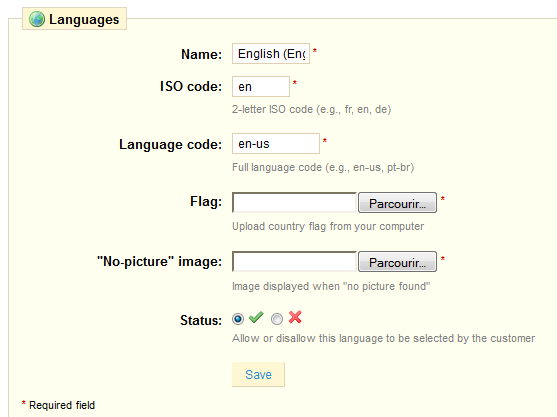 In order to add a new language:
Enter the Name.
Enter the adequate ISO 639-1 code.
Enter an image of the flag of the language you want to add (Remember to upload a very small sized picture that does not exceed the resolution of 16*11 pixels.)
Then upload an image in the new language that will appear when an image is missing from your store. In French, this image contains the words "Aucune image", for example.
Clic "Save".
Go to the "Translations" sub-tab to finalize the installation of the new language.
In that sub-tab's "Import a language pack" section, click on "Browse" to select the language pack that was already
downloaded to your computer.
Select it, and click on "Import". The "Translations added" notification then tells you that the import was successful.
You can click on the flags at the top of your shop to verify this operation. Similarly, visitors to your shop can now select an additional language by using the icons at the top of the page, as shown in the screenshot below.